Certify the web manage free https certificates for IIS

The SSL Certificate Manager for Windows, powered by Let's Encrypt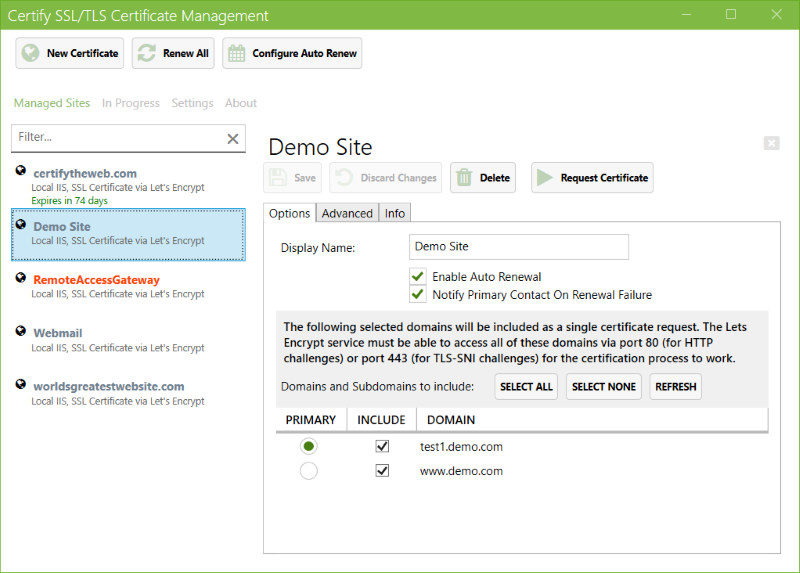 Easily install and auto-renew free SSL/TLS certificates from letsencrypt.org for your IIS server. Setting up https has never been easier.
Download
Download 2.1.27
Digitally Signed as Publisher 'Webprofusion Pty Ltd'
File SHA256 as generated by certutil -hashfile SHA256: a6c2dae2963f805986d4326589df8e908c2e49b66a2387cf11a85b4feae5b356
V2.1.27 : Released 2017/11/17
Fix license validation check
V2.1.26 : Released 2017/11/17
Important

Fix issue where cert bindings are not updated if you have specific binding settings (IP, port etc)
V2.1.25 : Released 2017/11/06
New translation: Spanish (es-ES) contributed by Alejandro Mir
UI fixes (grid view scrolling)
Fix Update check
Note: The app is free for up to 5 managed sites per server. If you want to manage more than 5 sites (or you just want to support development) you can purchase an upgrade key.
Important:

This software is provided "as is", without warranty of any kind, express or implied, including but not limited to the warranties of merchantability, fitness for a particular purpose and noninfringement. In no event shall the authors or copyright holders be liable for any claim, damages or other liability, whether in an action of contract, tort or otherwise, arising from, out of or in connection with the software or the use or other dealings in the software.
Note: Our app is Open Source (https://github.com/webprofusion/certify) and uses the cool ACMESharp PowerShell project by Eugene Bekker and ACMESharp contributors which is licensed under MPL 2.0
---