Features
Let's Encrypt is a free service for generating trusted SSL certificates for your domain. Most Let's Encrypt certificate tools are command line only, Certify SSL Manager provides a simple GUI to help you set up certificates and managed their renewal. Just fire up the app on your IIS web server to get started.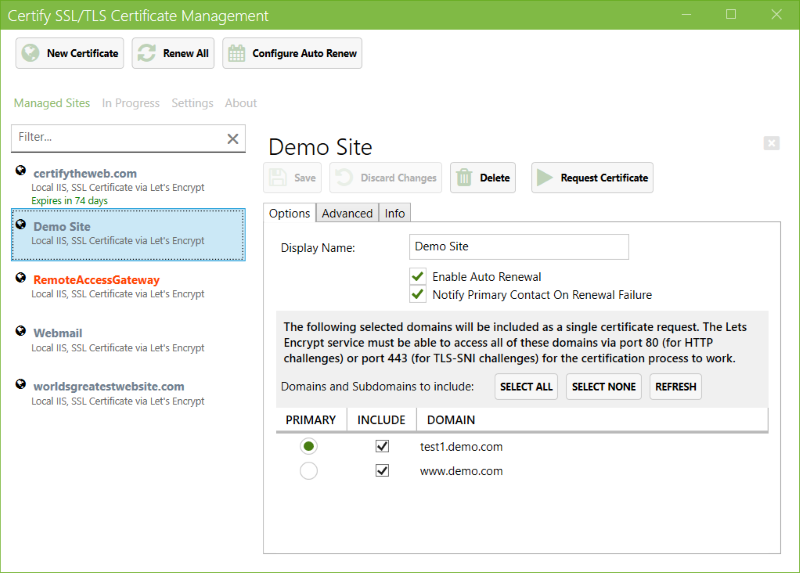 Setup the sites you want to manage and your auto renewal settings, then let the app take care of renewing certificates.
Easy Setup - just install on your web server
Easy Certificate Requests, Authorization & Renewal
Set up auto renewal and configure how often you want renewals to take place
Advanced Users - Add your own pre/post request hook PowerShell scripting or post-request web hooks.
Requirements
Certify SSL Manager must run on the server which is running your IIS based website.
.Net 4.5 or higher installed.
Locally installed IIS with one or more website configured and http bindings set to one or more domains (if using IIS auto configure)
Hostname being certified must be accessible via internet (http port 80) and not be a redirection
Multiple domain SSL Certificates per IP Address requires SNI which needs IIS 8 or higher (Windows Server 2012 upwards)
Certificates expire every 90 days. You must renew certificates before expiry. Just configure the Auto Renew feature or request a new certificate.
---